Welcome to Physical Medicine and Rehab
Two great locations serving you
Porter-Kingwood / West Houston
(281) 354-4000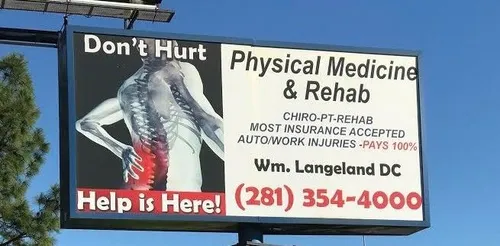 Here at Physical Medicine and Rehab, the staff is dedicated to not only repairing your current issues, aches and pains, but also to prevent them in the future. We take great pride in providing the best care possible for our wonderful patients, and would love for you to become one of them.
Our two very dedicated chiropractic offices still fully abide by and embrace the loving, family atmosphere established by our wonderful founder, Dr. William Langeland. His legacy will forever live on through our caring staff.
Call today to make your next appointment, we're here to help.
Whether you need an injury or accident treated, have a specific problem (such as back pain, head aches, sore joints, a spinal condition, etc), or just want to improve your overall health, Dr. Langeland's staff will work to find a solution for you through chiropractic care.
At your first visit to Physical Medicine and Rehab, our expert staff will explain to you how the science of chiropractic works, and give you a full evaluation to see if chiropractic care is right for you. If it is a good fit for you, we will develop a plan of chiropractic care that is specific to your condition and health goals.
You may be new to seeing a chiropractor and want to find out more. Please feel free to call or email us with any questions you may have. We also welcome your referrals, so please send our number to your friends and loved ones.
Porter/West Houston Chiropractor | Physical Medicine and Rehab | (281) 354-4000